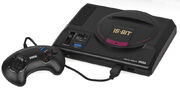 The Sega Genesis (often shortened to Genesis) is a 16-bit video game console that was released in 1988 by Sega in Japan (known there as the Mega Drive) 1989 in North America (known there as the Genesis), and 1990 in Europe, Australasia, and Brazil (also under the name Mega Drive). In South Korea, it was distributed by Samsung and was first known as the Super Gam*Boy and later as the Super Aladdin Boy. The Genesis is Sega's third console and the successor to the Sega Master System with which it has backward compatibility when the separately sold Power Base Converter is installed.
The Genesis was the first of its generation to achieve notable market share in continental Europe and North America, where it competed against a wide range of platforms, including both dedicated gaming consoles and home computer systems. Two years later, Nintendo released the Super Nintendo Entertainment System, and the competition between the two would dominate the 16-bit era of video gaming. The console began production in Japan in 1988 and ended with the last new licensed game being released in 2002 in Brazil. Although firm sales figures were never published, the Genesis was Sega's most successful console.
Several add-ons to the console, including the Sega CD/Mega-CD and Sega 32X, were created and sold in order to extend its capabilities and potentially increase its appeal to customers.
Read More
[
]
Sega Genesis/Mega Drive on Wikipedia.